Mail plans can be complicated.  That's why we're here to assist you with a free over-the-phone mail service consultation to answer your questions and help you find the right mail option for your needs.  Just give us a call at 402-682-3134 and we'll walk you through your options.
Cutthroat Mail Service
Use this option if you're needing to purchase or provide a mailing list that we will NCOA, CASS and inkjet barcoded addresses on individual mail pieces.
After printing your project and receiving your database, we inkjet print the database addresses and barcodes on each individual piece and follow USPS regulations to ensure your piece can be bulk mailed, saving you money on postage.  We offer our mail service for print projects purchased with us.
Cutthroat Mail Service flat-rates:

| Quantity | Price |
| --- | --- |
| Below 2500 | $299 |
| 2500 | $349 |
| 5000 | $599 |
| 10000 | $1099 |
| 20000 | $1899 |
| 25000 | $2249 |
| 50000 | $3999 |
| More than 50000 | Call for availability and pricing |
*Plus sales tax and USPS postage.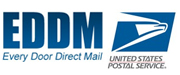 USPS EDDM
Every Day Direct Mail
is an inexpensive way to direct mail geographically to selected mail routes (neighborhoods of 500-1,000ish) of your choice for just 20-cents per delivery. Simply print your postcard mailers with Cutthroat Print, set up a new USPS account, choose your neighborhood mail routes, make USPS postage payment, drop off your printed products with delivery documentation at the post office.  
Before you start your project, we'll need to know if you'll be using EDDM so we can ensure your mail piece is correctly sized as per USPS regulations.  Your pieces will all be printed with a "Local Postal Customer" address and EDDM indicia stamp
.
How to use EDDM:
#1:  Purchase your EDDM eligible mail pieces through Cutthroat Print.  We'll ship them straight to you.
#2:  Use the EDDM tool on the USPS website.  Go ahead, give it a try and see how easy it is to select neighborhoods of your choice to mail to.  Make online postage payment with USPS and print out your receipt.
#3:  Drop off your postcards and postage receipt at the post office that services the route(s) you chose.  In most cases, your postcards will hit mailboxes in 1-2 business days after you drop them off.
Download an EDDM template for your product and size located on our products pages to ensure you're meeting all EDDM requirements.