Founder & Manager
Jeremy Jensen
Jeremy is a lifelong Nebraskan originally from York, Nebraska, and brings the main technical, and artistic , and operational day-to-day skill to our team.  Jeremy assists with one-to-one customer strategy and suggesting money-saving development ideas as well as pre-press image formatting ensuring that all of our print jobs are printed properly and are the best they can be.  Jeremy was a Realtor in Lincoln for 10 years, has been involved in a number of creative marketing, direct sales projects, and non-profit work.  He has been a skilled freelance graphic designer and photographer since 2000.  Jeremy also leads our sales team in creating new promotions and marketing packages that help save our customers time and money while improving their marketing returns.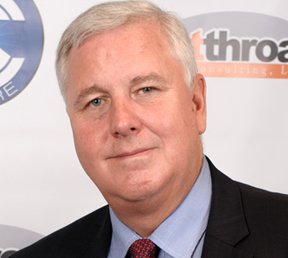 Owner
Matt Aden
Matt was born and raised in Nebraska.  In 1982 he and his wife Sheri relocated to Kansas City where he entered the Telecommunications industry as District Sales Manager for Oak Industries. Over the next 33 year they lived in many Cities and Countries while Matt pursued his career in telecommunications sales and sales management.  Matt spent the majority of his career with General Instrument, and then Motorola (following the acquisition of General Instrument), as Senior Vice President of Global Sales and Support.  In 2007 Matt and Sheri relocated back to Nebraska where Matt continued to work in the Telecommunications industry as Vice President Global Sales for Harmonic, Vice President of Global Sales for Casa Systems and most recently Vice President Sales, America's for Concurrent Corporation.  In July of 2015, Matt retired from Concurrent and is now happily focused on contributing to the success of Cutthroat Print.
Head Graphic Designer
Jess Perry
 Jess has always known that he was destined to be an artist. Sketching on paper, coloring on tables and drawing on nearly anything he could get his hands on, by age 7 he knew that he was going to be a graphic designer. 
Jess has had several design positions including 
a designer for a real estate company maintaining print materials and creating marketing strategies, working in a printshop for Cabela's, and as a T-shirts and apparel designer. Jess resides in Utica, Nebraska with his wife and two children. 
Sales Associate
Janell Folkerts
Janell joins the Cutthroat Team with over 10 years of sales and marketing experience; including work at the Grand Island Chamber of Commerce, American Heart Association, and LIBA (Lincoln Independent Business Association). She has a passion for helping businesses and entrepreneurs become more productive & profitable through assessing their marketing needs & opportunities. She prides herself on the relationships she builds with her customers & creating a customized print solution to fit the unique needs of businesses.
Sales Associate
Sheri Aden
A true professional, Sheri has a drive for helping customers get the best products for the best prices.  She's a former nurse and has been involved in a number of corporate experiences and non-profit organizations.  Sheri is an active volunteer with several community organizations, and lives in Omaha with her husband, Matt, who is the owner of Cutthroat Print.